Big thanks to
Snooze
for the nice plug on her blog! She is a fellow Michigan gal, though from up closer to the top of the mitten than I am (see "map" below.) I love being from a state where you can use your hand for a map! Anyone who has read my article at Knitty knows how much I like attention, so this is great! Thanks again.
In knitting-related news, I am still hard at work on my Level III Aran, though finishing a single row seems to take forever. I need to have plenty of other things around to work on for when my brain isn't frisky enough to provide the necessary level of concentration. (Excuse for more yarn shopping?)
I got the editorial calendar from Creative Knitting magazine today on the advice of my PKDG mentor, who said it's a good place to try for a new designer. I wish I had more time to think of ideas now, but being the end of the school year I am swamped with work and tired from too many child antics. Can you say JUNE 16??? (I can't wait! Hours and hours of potential knitting and designing time!)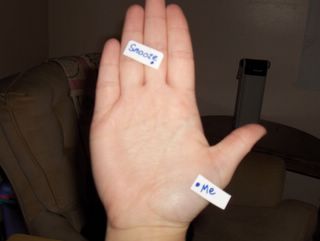 Handy map (lame joke, I know)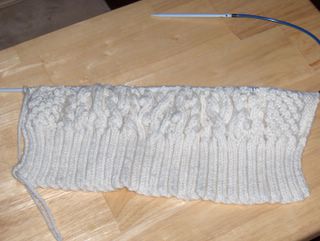 Aran progress....slow but thankfully accurate.